With 17 Years of Craftsmanship, BBAC Embarks on a New Journey of High-quality Development
---
Source: Release Time: 2023-02-16 17:15:01
[August 8, Beijing] Today, BBAC welcomes its 17th anniversary milestone. As a leading enterprise in the high-end manufacturing industry of Beijing, BBAC continues to promote digital upgrading, electrification transformation and green and low-carbon development while cultivating high-end manufacturing and creating high-end products, and has continuously made breakthroughs on the road of transformation and upgrading. On this basis, BBAC has accelerated the implementation of "Modern Luxury" concept in all aspects, and has embarked on a new journey of high-quality development.
Digital upgrading -- Building the paradigm of intelligent manufacturing
Over the years, BBAC has always been active in exploring the upgrading and transformation of digital production. As early as 2014, BBAC introduced advanced digital enterprise solutions to promote intelligent production and digital management. Over the past two years, BBAC has applied Mercedes-Benz Cars Operations 360 (MO360) in an all-round way, and has built a "digital, flexible, efficient and sustainable" intelligent manufacturing system. With the aid of the digital information management system, digital interactive interface and digital tools, BBAC has realized the seamless connection of intelligent production, intelligent logistics, intelligent quality and intelligent maintenance. At the same time, production personnel can check the production data at any time, manage production processes in a timely and efficient manner, and provide accurate feedback, so as to ensure the high quality of each Mercedes-Benz vehicle.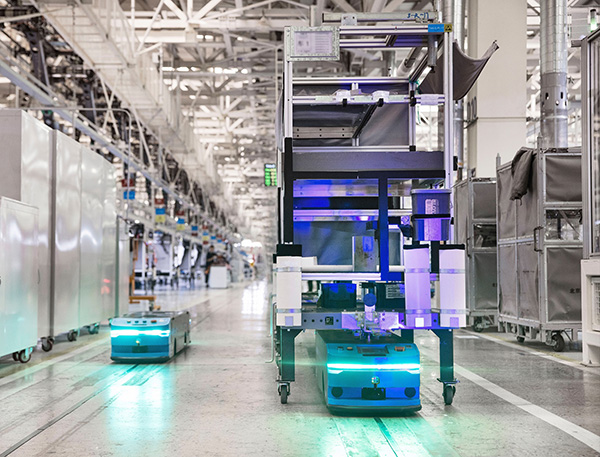 At present, digitalization has penetrated into all aspects of BBAC's production and manufacturing. For digital management, BBAC has introduced world-leading systems such as flexible and intelligent PFM (Production Flow Management) and AM Supply to help enhance the accuracy and efficiency of production and logistics. In terms of digital production equipment, BBAC has used many advanced robots and has continuously introduced the latest machinery and equipment in the industry. The robots can complete self-learning and self-optimization through big data, thereby realizing high-precision production and minimizing errors. In terms of the digital interactive interface, BBAC has continuously upgraded the visualization platform to ensure efficient and transparent intelligent production. Take an online monitoring system of BBAC Shunyi Plant as an example. The large screen for visualization highly integrates the production data resources of the plant, realizes monitoring and analysis of key indicators in multiple links such as production capacity, equipment, and warehousing, and helps production personnel fully control the production operations status of the plant and make efficient decisions.
At present, BBAC has been able to quickly transmit, store and process production data, realize data visualization, and propose solutions through the self-learning function of machines and technologies. In the future, BBAC will also accelerate the deployment of the artificial intelligence technology capable of deep learning, enabling robots to have smarter self-learning capabilities and make correct automated decisions, achieve deeper digital transformation, and set a benchmark for highly digital automobile production.
Electrification transformation -- leading luxury green mobility
Based on the digital production strength and perfect production platform, BBAC has continuously introduced and enriched the "Modern luxury" product matrix during its 17-year journey, and has focused on introducing pure electric models in recent years to meet the growing needs of Chinese customers for premium electric vehicles.
Thanks to the strategic deployment of BAIC Group and Mercedes-Benz Group (formerly Daimler), BBAC has been steadily advancing on the road of electrification transformation. At present, BBAC boasts a battery plant, a new all-electric vehicle production platform and two batteries, and has initially formed a luxury electric product matrix consisting of the all-new EQE, EQA SUV, EQB SUV and EQC SUV, laying a solid platform, technology, talent and product foundation for the realization of "Electric Only". Especially this year, BBAC has accelerated its pace to go all electric. After ushering in the all-new EQE, the "Core Luxury" all-electric model, BBAC will also achieve the SoP of the new long-wheelbase C-Class plug-in hybrid sedan in the near future.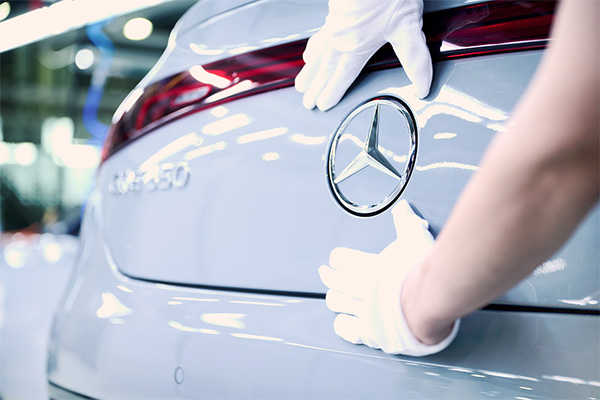 Against the backdrop of the increasingly fierce global electrification wave, BBAC will continue to increase its investment in the production for models based on dedicated EV platform. It is expected that by 2025, the Entry and Core Luxury models of the new MMA and the electric MB.EA platforms will also be produced here at BBAC, providing more high-end and green mobility options for the Chinese market.
On the road of carbon neutrality -- strengthening luxury brand value
Electrification transformation represents BBAC's determination to achieve carbon neutrality. Since its establishment, BBAC has adhered to the environmental protection concept of "achieving green manufacturing and pursuing sustainable development", and practiced green and low-carbon development in aspects of manufacturing and supply chain management. Today, BBAC has built a green value chain system, extending the carbon neutrality concept from production to products, allowing users to feel the green and low-carbon value originating from the production level while enjoying the driving experience.
In all steps of production and operation, BBAC reduces total carbon emissions through advanced production techniques, energy monitoring and management technology, environmental protection facilities and devices. Meanwhile, BBAC will further increase photovoltaic power generation facilities in the next three years, vigorously develop photovoltaic power generation, ground source heat pumps and other projects to increase the proportion of self-generated green energy. In addition, BBAC has participated in green power transactions for two consecutive years, providing clean energy for manufacturing. For the carbon emissions that cannot be avoided in the production process, BBAC offsets it by participating in domestic carbon offset projects.
The green and low-carbon way has become a common practice in BBAC's plants. Through continuous plant greening projects, BBAC currently has a greening area of about 830,000 square meters, covering 128 kinds of green plants, including about 15,000 large arbors, which can absorb about 160 tons of carbon dioxide every year. This year, BBAC also released the BBAC Green Catalogue, which systematically disclosed the phased achievements of BBAC's greening projects, promoted green culture throughout the company, and guided employees to apply green and low-carbon concepts to actual production.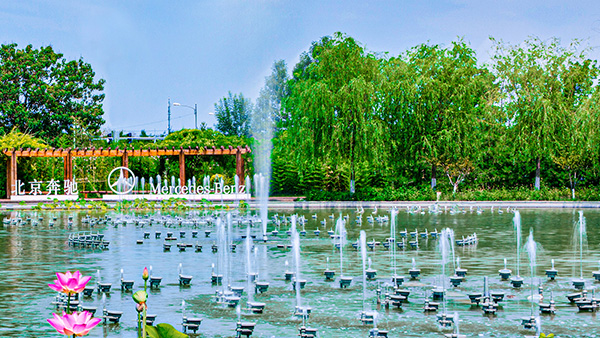 As an important part of the automobile production process, the supply chain also requires green transformation and sustainable development. To this end, BBAC encourages suppliers to save energy and reduce emissions, and joins hands with them to promote the construction of a green manufacturing system in the industrial supply chain, so as to jointly reduce carbon emissions throughout the life cycle of automotive products.
After 17 years of development, exploration and continuous breakthroughs, BBAC is forming a good situation with digitalization, electrification, and carbon neutrality as a triad of driving forces, enabling the Company to achieve continuous innovation and upgrading and achieve high-quality development. In the future, under the strategic guidance of BAIC Group and Mercedes-Benz Group, BBAC will constantly unleash the driving force for transformation and upgrading, continue to provide Chinese customers with more desirable Mercedes-Benz vehicles, and make greater contributions to the continuous transformation and upgrading the automobile industry in Beijing towards high-grade, high-precision, advanced technologies and to China's "Dual Carbon Goals".