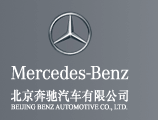 BEIJING BENZ AUTOMOTIVE CO., LTD. appreciates your concern of our products and visit to the website. We pay close attention to your personal privacy. We hope you'll enjoy the visit to our website. The protection of your personal privacy remains a priority of our work. All personal data collected during the visit to our website will be processed in accordance with the 「Code of Conduct」 of BEIJING BENZ AUTOMOTIVE CO., LTD. However, links to other websites existing on our website, and related websites are not covered in this privacy policy.
Collection and Processing of Personal Data
Upon the visit to our website, our web server will automatically record the name of your Internet service provider, network address, websites you visit as well as date and duration of your visit. Other personal data will only be saved when you offer them initially, such as questionnaire, competition or information request.
Utilization and Disclosure of Personal Data
BEIJING BENZ AUTOMOTIVE CO., LTD. will utilize your personal data for technology management of the website, customer service and management as well as product survey and promotion. As required by law, we'll disclose your personal data to government agencies. Our employees, agencies and dealers are all constrained by duty of confidentiality.
Right to Free Choices
We are willing to utilize your data to offer the information of our products and services and ask for your opinions at a proper time. Your participation depends on your own will only.
Security
BEIJING BENZ AUTOMOTIVE CO., LTD. will take all reasonable technologies and organizational security measures to prevent any accidental or deliberate manipulation, loss, damage or arbitrary access of our data. We'll continuously introduce new technologies to enhance the effect of our security procedures. However, we will not guarantee the nonoccurrence of the above-mentioned situations.
Right to Inquiry
Daimler AG will offer a written notice on stored personal data when requested. As a registered user, you can check, delete and modify your personal data. Despite the effort to keep your personal data correct, there might still be wrong data. We'll conduct related modification as requested. If you have any doubt about your personal data, please consult the data protection commissioner of our group. The commissioner and his/her team will offer related services for your inquiry, suggestion or complaint.
BEIJING BENZ AUTOMOTIVE CO., LTD.