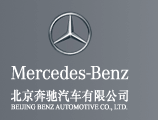 BBAC Releases Green Album, Highlighting New Achievements in Carbon Neutralization
---
Source: Release Time: 2022-03-21 13:59:57
With China's National Tree Planting Day (March 12th) approaching, BBAC released the Green Album of BBAC, reviewing BBAC's phased achievements thus far in implementing low-carbon concepts and setting the stage for BBAC to continue to promote green manufacturing and lifestyle.
According to the Green Album, BBAC currently boats 128 species of plants, covering an area of about 830,000 square meters. Among them, there are about 15,000 trees, which can absorb about 160 tons of carbon dioxide every year. While continuously optimizing the ecological environment of its facilities, BBAC has also implemented green and low-carbon concepts in the three levels of products, manufacturing and supply chain, accelerating the construction of a green value chain system, and steadily moving forward to the goal of carbon neutrality.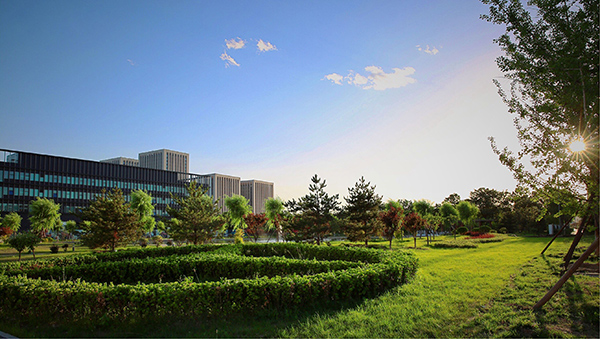 Plants in BBAC
"Green" concept, implemented in the entire process of manufacturing, accelerates low-carbon transformation
Beginning with the construction the company's first manufacturing plant, BBAC incorporated the concept of green planning and green production into its daily operation. After years of development, clean energy projects including the photovoltaic power generation system, ground source heat pump and solar water heating system have been well developed, providing green power for the company to achieve carbon neutralization. Taking the photovoltaic power generation system as an example, its annual power generation exceeds 26 million kwh, reducing carbon dioxide emissions by about 18,000 tons, equivalent to the total amount of carbon dioxide neutralized by 700,000 trees every year.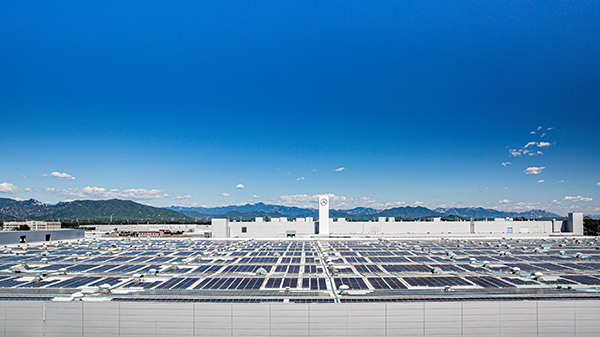 Photovoltaic Power Generation System in BBAC
In addition, BBAC gives maximum consideration to environmental protection and high energy efficiency at all stages of manufacturing. In its Engine Plant, based on high automation and intelligence, the production line can keep running automatically in an environment with fewer people and less light, and form a "Dark Factory" manufacturing mode that significantly saves electric power and improves production efficiency. In Painting Shop, BBAC adopts green processes such as dry painting and medium free painting, reducing the consumption of energy and painting material effectively. In logistics sector, BBAC uses recycled packaging, with a coverage rate of 85%. So far, it has reduced the output of industrial solid waste by more than 100,000 tons. In terms of energy management, based on digital and intelligent tools, BBAC has built a complete energy resource consumption management mechanism, which can systematically monitor and improve the use of energy resources in the plant, ensure the balance between supply and demand of energy resources and eliminate waste.
In 2021, BBAC implemented comprehensive measures towards carbon neutrality, not only established the Carbon Neutralization Committee, but also formulated the carbon neutralization strategic plan and the "Four-step of Carbon Neutralization" action plan. In the same year, BBAC began to implement the top priority of the "Four-step" action - participating in the national green power transaction and becoming one of the first green power purchase enterprises in Beijing.
Go all-electric and push entire supply chain to become carbon-neutral
Driven by green manufacturing, BBAC continues to provide premium new energy vehicles for China's market featuring in high-quality and environmental friendly. Currently, BBAC has an electric product portfolio composed of EQA, EQB, EQC and E-Class plug-in hybrid cars. In 2022, the all-new EQE and the all-new C-Class plug-in hybrid cars will roll offline, which means that BBAC will promote the development of green and low-carbon mobility with more green products.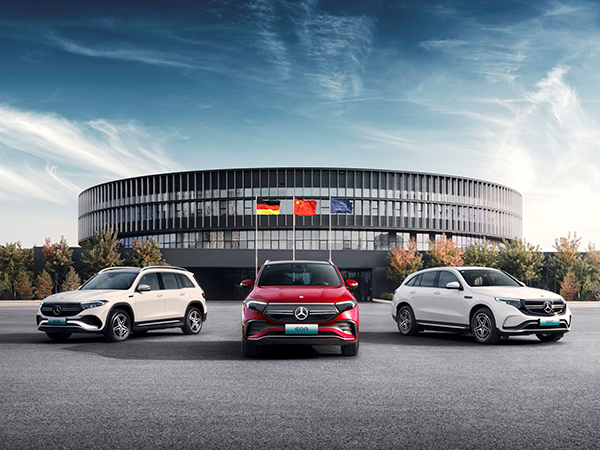 Pure Electric Product Portfolio of BBAC
As a responsible corporate citizen, in the process of accelerating its own sustainable development, BBAC is also promoting the construction of a green manufacturing system across the whole industrial chain, working with partners to reduce carbon emissions in the whole life cycle of automotive products. In recognition of its unremitting efforts in the construction of a supply chain ecosystem, BBAC was rated as "Green Supply Chain Management Enterprise" in the fifth green manufacturing list released by the Ministry of Industry and Information Technology in 2020. Driven by the development of BBAC, two of its suppliers passed national green factory certification in 2021.
In the future, guided by BAIC Group's deployment of green and low-carbon development and Mercedes-Benz Group's "Ambition 2039", BBAC will continue to cultivate green manufacturing, accelerate the transformation of electrification, realize carbon neutralization soon, promote the completion of China's national goals for energy conservation and carbon reduction, and make more contributions to the harmonious coexistence of people, vehicles, environment and society.